Business Travel Packing List
When going on a business trip, it´s important to consider the length of the trip. Will you be gone for just a few days or will the trip last longer? Find out the dress code for the event and put together your luggage accordingly.
Try to find a balance between packing just the essentials and over-stuffing your suitcase. You don´t want any unnecessary weight but at the same time nothing should be missing when you're going on an important business trip. Don´t forget to check the weather forecast and average climate for your destination and adapt your packing list to it.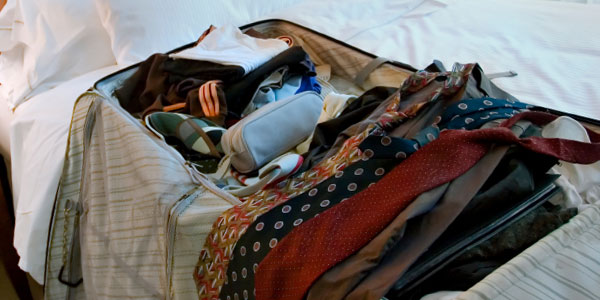 Men´s business travel packing list
3-in-1 shampoo
Aftershave
Backup set of clothes in your carry-on
Business cards and other corporate travel essentials
Comb
Deodorant or antiperspirant
Face wash
Fragrance
Mobile phone & iPod
Sewing Kit
Shower gel
Tissues
Toothbrush and toothpaste
Travel razor, nail buffer & nail clipper set
Travel Shaving brush
Travel shaving soap or cream in a bowl
Wallet with cash, credit cards
Remember that the same suit can be paired with different colored dress shirts or ties to create a new look when needed. To avoid extra work it´s a good idea to pack wrinkle free shirts. If you don´t own any consider wearing garments that might be more likely to wrinkle whilst you are on the road to or from your destination.
Women´s business travel packing list
A pair of jeans
A simple dress
A couple of t-shirts that can mix and match with the cardigans and blouses
Backup set of clothes in your carry-on bag
Black boots or comfortable black shoes with a low heel
Business cards and other corporate travel essentials
Comb/Brush
Deodorant or antiperspirant
Extra top or sweater in case of unexpected stains
Face wash
Fragrance
Keep accessories to a minimum (one necklace, a simple pair of earrings that go with everything that´s been packed for the business trip, a small collection of ponytail holders and bobby pins for bad hair days)
Lingerie
Makeup should be kept to a minimum (mascara, lipstick, concealer, eye liner and foundation)
Mobile phone & iPod
Neutral one suit jacket that's not prone to wrinkling
Sewing Kit
Shower gel
Stockings
Straight-legged black pants and a simple black or gray pencil skirt that have Lycra, spandex or poly blend for stretch
Three short-sleeved or long-sleeved button-down blouses
Tissues
Toothbrush and toothpaste
Trial-size bottles of a favorite shampoo, conditioner and hair gel
Underwear
Wallet with cash, credit cards
Watch
We suggest that you pick two basic colors and build up your business trip wardrobe from there. Wear the same pants with a more casual shirt or blouse in the evening and use a black suit during the business meeting.