Falls Creek: Skiing, Snowboarding and Snow Holidays
Falls Creek is one of Australia's finest skiing destinations. It is located in the southern alpine region and in the north east corner of the state of Victoria. The nearest capital city is Melbourne and most people access Falls Creek from here. Melbourne has an international airport with regular flights from many overseas destinations as well as domestic flights from all over Australia. Regular coach services operate from Melbourne to the Victorian snowfields and many skiers also find it convenient to hire a car and drive them selves. There are ski packages available from Melbourne that include transfers to the ski resorts along with accommodation on snow as well as ski hire and lift tickets.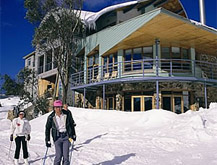 Falls Creek Snow BoardingFalls Creek Mountain LiftsSkiing at Falls Creek
Falls Creek is located deeper into the mountains than the other Victorian ski resorts and consequently has more reliable snow. There is also plenty of snow making equipment on site in case nature takes a holiday. Falls Creek has an altitude of 1600 meters and an average annual snow fall of around 4 meters. The snowfield is open for an average of 128 days each winter. Falls creek has 92 runs of which 60 kilometers are groomed. There are runs to suit all standards of skiers and beginners will find plenty of easy and forgiving terrain to help them get started. There are plenty of lifts and chairs to carry the thousands of visitors that flock here every year up the runs of their choice. There are also lots of advanced and intermediate runs to cater for the more accomplished skier.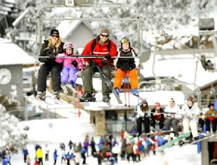 Ski Fields at Falls CreekAccommodation at Falls CreekFalls Creek Learning to ski
Falls Creek has lots of on snow accommodation with many chalets, apartments and hotels to choose from. There are also many things to do in Falls Creek with a great apr's ski atmosphere with a host of cafes, restaurants and night clubs. Cheaper off snow accommodation is available in the nearby towns of Mount Beauty and Bright. This entire region is famous for its fantastic scenic beauty. The ski fields themselves and full of majestic and gnarled Snowgums which add as special beauty to skiing in Australia. The valleys are filled with magnificent Bluegum and Stringybark forests and the effect is magic. Drive carefully in these regions as there are many Wombats, Kangaroo, Wallaby's and Echidna to see.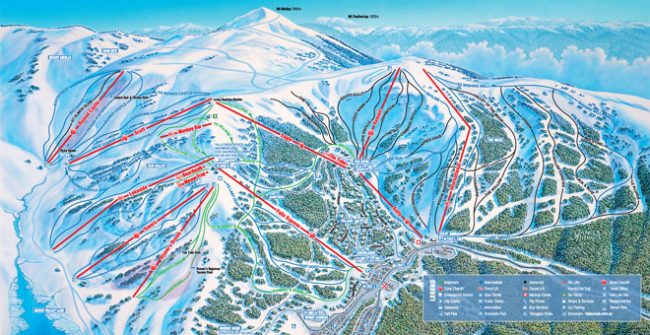 If you are planning an Australian skiing holiday, then you will find that Falls Creek will provide one of the most memorable skiing experiences that you have ever had.