Visiting Puerto Peñasco, Mexico as a Backpacker
Puerto Peñasco is rarely thought of as a destination for backpackers. It is more often considered a getaway for tourists from the Southwestern United States. For budget travelers, Rocky Point (what Puerto Peñasco is commonly called by many Americans) may not seem like the ideal destination. But if you take the right approach, it can actually be an excellent choice for the backpacker.
A quick look at the Wiki travel guide for Rocky Point reveals a number of free and budget options for everything from activities to accommodation. If you dig a bit deeper, you can find more resources on sites like Trip Advisor and Lonely Planet, which has tips specifically geared for the backpacker.
When it comes time to choose where you are going to stay, consider a rental or short-term apartment stay, which will end up being cheaper in the long-run than a stay at a hotel or a bed and breakfast. Sites like Rockypoint-mexico.com can help you find the ideal place to stay.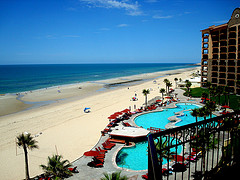 You can also look into options like camping and housesitting, which will greatly reduce, or in some cases completely eliminate, your accommodation costs. Considering that lodging will likely be your greatest expense on your trip to Rocky Point, it is a wise idea to limit this expense as much as possible.
When it comes to your other expenses, such as dining and entertainment, you can be strategic to keep these costs at a minimum. Try to avoid restaurants that are right on the beach (it stands to reason that the higher the rent, the higher the food prices will be). Instead, search for dining options that are a bit out of the way. You may find more of a local crowd and more of an authentic dining experience.
When it comes to activities and entertainment, think simple and low-tech. Renting a jet ski or going parasailing may cut into your budget, so you should try to minimize these activities. Instead, go for a swim and rent some snorkeling equipment. Or simply have an early evening stroll along the beach, when it is less hot. Simply being close to the sea is often enough for people when it comes to having a proper vacation. In many cases, you may be able to take advantage of deals and specials at certain bars and restaurants, so you should be sure to pay attention to any promotional materials that you can find around town.
If you have any of your own tips to share when it comes to traveling to Rocky Point as a backpacker, feel free to share your advice in the comments section below.
Photo credit: flickr user dchrisoh