Monuments from different civilizations
The long history ca 9000 years and all those different masters and mixture of civilizations that passed from Cyprus, have left their culture and character. Monuments from all those periods and civilizations are today spread around the island. These sites are attracting a lot of visitors and scientists who study the history of our earth.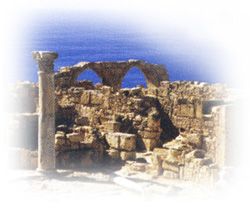 From Neolithic era ruins are found in the area of Chirokitia and Tenta as well as in Paphos and Petra tou Limniti on the north. Important and wonderful places to visit are everywhere. In Paphos the Temple of Aphrodite, Mosaics of Dionyssos and Aion houses, Tombs of kings, Santa Solomoni Catacombs, the St Paul pillar , the roman odeon and the Byzantine fort in the harbour are giving to Paphos area the first place on archaeological map of Cyprus.
In Limassol surroundings the Curium excavations with its ancient theatre, mosaics of Eustolios house , the nearby Stadium and Temple of Apollo Hylates as well as the Kolossi castle from Knights of Jerusalem are places to visit on the west side of the town. More interesting monuments are in Limassol like the medieval castle and the Amathus ruins on the east.
In Larnaca area the Kition, Tamassos outside Nicosia and much more around are monuments from the Cyprus history. Of course we never forget the huge treasures we have in the occupied areas in Salamis, Soli, Vouni, Lapithos.
Byzantine monasteries and churches full of icons painted by famous painters , wall mosaics and golden and silver items are all over Cyprus. Kykko monastery, Trooditissa, St Neophytos, Macheras, Stavrovouni and Chryssoroyiatissa are the bigger monasteries whereas St George, St Minas and St Heraklidios are the main nuns monasteries. Beside these, big and small churches like St Nicolas in Kakopetria, Panagia Podithou in Galata, Asinou, Panagia tou Araka in Lagoudera village, Angeloktistos in Kiti, Holly Cross at Omothos, St Lazarus in Larnaca, Yeroskipou church and St John Cathedral in Nicosia are so important that many of them are in the UNESCO list of Cultural Heritage.
Ottoman monuments are also to be found and same have been restored by antiquities department and kept with proper safety measures. Hala Sultan Tekke in Larnaca and a lot of other mosques are all over.
Beside the local museums in Limassol, Larnaca and Paphos, the main national museum in Nicosia is the biggest collection of archaeological treasures ever found in different excavations in Cyprus. Statues, sculptures, idols and a lot of other items cover a period from Neolithic era up to newest history of Cyprus.
Also the Byzantine museum in Nicosia is a big collection of old painted Byzantine icons and value items from our religion.