Visiting the Mosaics of Paphos
The Mosaics of Paphos are a nice set of mosaics that were installed in noblemen's villas within the 3rd and 5th centuries. They can be found in the house of Dionysos, house of Theseus and house of Aion. They are very well done and preserved at the Paphos archeological park where they were found. They make an excellent tourist attraction and bring in several tourists every year. They can be walked on with care and many people are amazed by the amount of work it takes to create such a masterpiece. The mosaics were made by the Romans and were discovered by accident in the 1960's.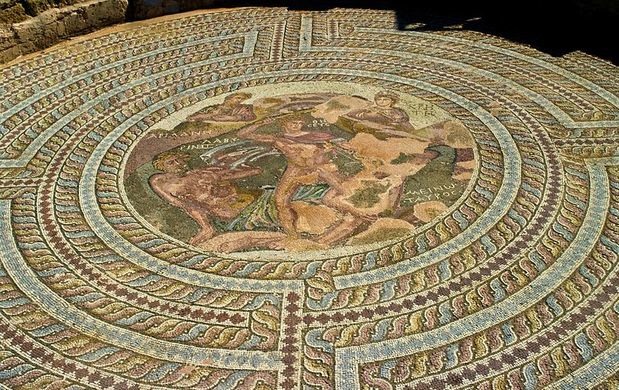 The Quality of the Paphos Mosaics
Since they are very intricate and colorful, the mosaics are often referred to as the finest in the Eastern Mediterranean area. They depict scenes from Greek mythology and are very well done. The mosaics can be found in other houses around the area which were excavated but the main ones that belonged to Dionysos, Thesues and Aion are most famous. The best thing to do if you go see them is to see them all if possible. They are all along the floors of where the buildings used to stand and are often useful in getting you to the location to explore other attractions in Paphos.
Times to See the Mosaics of Paphos
There are many time periods in which the Mosaics of Paphos are open to the public. Make sure to go during one of the designated time periods within the following months:
April to May 8AM to 7PM
June to August 8AM to 7PM
September 8AM to 6PM
October to March daily 8AM to 5PM
Possible Closure on Major Holidays
Other Attractions near the Mosaics of Paphos
The Lighthouse and fortress of Saranda Kolones are close to the Paphos Harbor and very close to the Mosaics of Paphos. The lighthouse gets a fair share of the visitors to the area because it offers a nice view of the location. The fortress of Saranda Kolones is a castle that was built in 1200 AD timeframe and was destroyed in 1223 by an earthquake. It was never rebuilt and has remained there as piles of rubble. It is still a very nice location to visit because it makes for great photo opportunities and enjoyable exploration. The Paphos Harbor is also another major tourist attraction that is sure to get a lot of attention. It is not far at all from the Mosaics of Paphos.
What to Bring Along With You
Going on any trip to anywhere is always terms for preparation. Always be sure to bring along the following items when you decide to travel to locations such as the Mosaics of Paphos:
Clean Drinking water
Easy to Digest Food and Rations
Snacks for Strenuous Activity
A Sturdy Backpack for your Items
Nice Hiking Boots or Shoes
Comfortable and Cool Clothing