Flight Travel Products
A long international flight can be quite exhausting. The better prepared you are the less stressful and more enjoyable it will turn out. With the help of some useful flight travel products you can make your necessary travel time as comfortable and painless as possible.
Sleeping Masks
Some airlines with great service provide them but most don´t if you are flying in economy class. Sleeping masks are great for travelling, especially if the travel time is really long. If you want to get some sleep on a crowded airplane, it´s almost necessary to bring one. Sleeping masks give you the possibility to relax and they keep out the light whilst you are trying to sleep. Many also have a special nose piece to keep out any additional light. Choose a sleeping mask that is made of a soft nylon fabric to provide as much comfort as possible.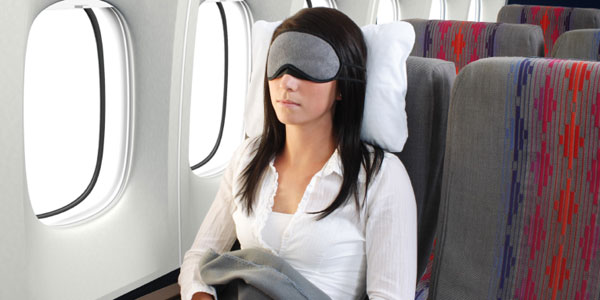 Neck Pillow
There are several neck pillows on the market to choose from. Pick one that is easy to use and light and small enough to carry in your bag onto the plane. A good neck pillow allows you to fall asleep comfortably without your head falling to one side and causing a stiff neck. It really makes a difference, especially when the seat next to you isn't empty during a long flight. We recommend choosing a neck pillow that is made from hypoallergenic materials if you are sensitive to certain substances. Most pillows can be washed in warm water.
Ear plugs
To be able to sleep and relax during a long and stressful flight most people will need some effective ear plugs. They can be a life saver when you are tired and there are screaming babies, people snoring or talking loudly around you. Using good ear plugs will help you to land well rested and without any ear pain from the pressure differences in the cabin during the flight and while landing and takeoff.
Snacks or/and food box
Since airline food tends to be high in carbohydrates and low in protein it´s a good idea to bring some protein bars on a long flight. The plane meals can be quite poor in taste, too, so consider buying your own food before leaving for the trip. Some sweets or other snacks like fruit are is easy to bring in your bag and will make a long flight enjoyable. Be aware however of custom regulations and liquid regulations at your airport of departure and destination.
Some entertainment
A music device and some new movies of your own choice will help you killing time on a long flight. Bring your own headphones since the ones provided on the planes can be of poor quality.