Honolulu Festivals, Recreations & Leisure
Honolulu Recreations & Leisure
The Great Aloha Run is an annual road race in Honolulu that takes place in February on President's Day. The 8.15 mile race benefits the Carole Kai Charity and contains about 20,000 runners.
The Honolulu Marathon, held every year in December, is a 26.2 mile race and is followed by a concert and luau.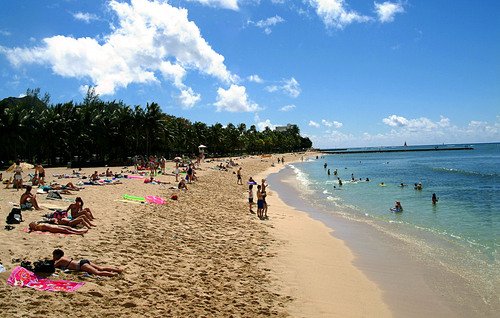 Aloha Stadium is home to the University of Hawaii football team and is also the host of the NFL Pro Bowl every year. It hosts occasion high school football games and large concerts and events. Aloha Stadium was constructed in 1975 for $37 million and was the first stadium built in the United States with the capability of being reconfigured to host different sport venues.
Honolulu Festivals
The Hawaii Music Awards is going on its 9th anniversary and is an organization that promotes the diverse music of Hawaii and the entire Pacific Rim. It is an annual affair that acknowledges and honors the talents of the musical community. It features all types of musical forms including Ukelele, Polynesian, Reggae Rock, New Age, Gospel, Fold, Contemporary Hawaiian, and many more.
The Aloha Festival, also known as the Ha'iku Ho'olaulea'a and Flower Festival is held annually in March and is the largest party in Hawaii. It is the Hawaiian version of Independence Day or Mardi Gras. The Ho'olaule'a has live music by Hawaiian slack key artist Richard Ho'oppi, a Hawaiian legend. Other artists include Benoit Jazz Works, Planetary Pulse, and various local performers. There are dance performances of all types of dance, from the hip-hop to the hula. There is a silent auction, lei making demos, arts and crafts show, floral design contest, historical display, bake sale, parades, and lots of traditional Hawaiian food.
The Hula O Na Keiki Childrens Hula Festival is a festival showcasing the talent of the keiki (children) from all over the world competing in contemporary hula dancing and traditional Hawaiian chant. The festival has arts and crafts, culture workshops, and continuous hula performances.
The Honolulu Festival began in 1994 and is attended by over 333,500 locals and tourists. It is a festival presenting Hawaii's culture, economic cooperation, and ethnic harmony between all of the inhabitants of the Asia-Pacific region.