Tourist holiday guide to offbeat sights in Prague
There are plenty of Prague sights to see away from the normal tourist trail. Prague is a city that invites itself to be explored at leisure.
Take some time out to venture down Prague's medieval lanes and quiet courtyards. A stroll around one of its many parks is a must and the Vltava River cries out for cruise.
Prague's rich and layered history is in evidence everywhere. The city was once head of the Holy Roman Empire, the seat of the Habsburg Empire and now a modern, democratic republic. To really explore Prague's mystery and magic, do yourself a favour and wander off the beaten track.
River Vltava
Prague's river is a beautiful stretch of water that offers alternative views of the city's architectural gems. Boat trips are plentiful or you can rent a rowboat. Larger boats head south to Vyshehrad while a summer service will take you 20km to the Slapy Dam. Upstream is Vysehrad Castle towering high above the river.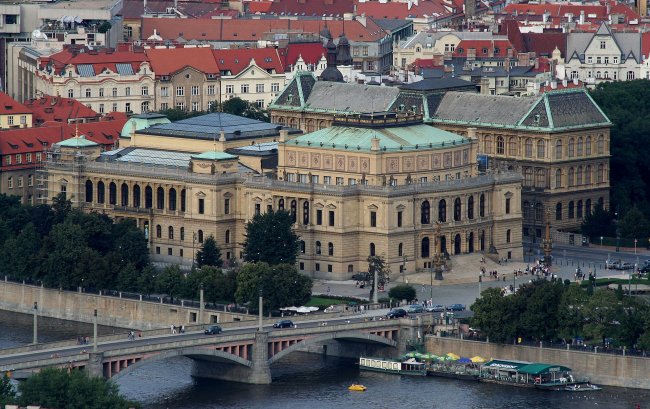 Vysehrad Castle and gardens
Vyšehrad is very near Prague city centre high above the Vltava river. The views are eye watering. Originally built in the 10th century, today it is a walled park, popular with the locals.
The castle features the Church of Saint Paul and Peter, while the Vysehrad cemetery contains the graves of many famous Czechs including the musicians Dvorak and Smetana.
The Church of St. Peter and Paul is beautifully decorated and the gardens a feast of colour in season. Nearby restaurants help make this a day well spent. Buses and the metro serve Vysehrad which is 2km south of the Old Town.
Prague Botanical Gardens
The botanic garden opened in 1969 and offers a tranquil break. Like most gardens, its 4.5 hectares are at their best in the summer months. There's a small alpine house, a Japanese garden and Mediterranean and Turkish plants. A tropical house recently opened.
Prague Castle Terraces
Just below the castle walls, the Castle Terraces are a series of gardens enhanced by some charming city views. A stroll here can round off a sightseeing tour of Hradcany before hitting the bars and cafes of Mala Strana.
Kampa Island
Just south of the western end of the Charles Bridge, Kampa Island is separated from the 'mainland' by a side channel of the Vltava River called Certovka, or 'Devil's Canal'.
Video: 10 Things You Must Do In Prague
This was once the milling area and home to Prague's pottery industry. It has a Bohemian (in Prague, an appropriate phrase) edginess at night with more than a whiff of marijuana in the air.
The southern end of the island has a popular park which often hosts open-air exhibitions. The north is full of restaurants and hotels.
Staropramen Brewery
Prague's leading local beer is Staropramen and you can take a 60min tour of the brewery that dates back to 1869, although it is now very much on an industrial scale.
The Visitors' Centre is modern and tours take place daily but you must book ahead on +420 257 191 402(296). Catch trams #6, 12, 14 or 20 and get off at the Na Knizeci stop. The restaurant has traditional Czech cuisine, such as roasted knuckle of pork served with mustard and horseradish.