The best time to see the Fall colours in Quebec
Anywhere in the north-eastern corner of North America will display fall foliage but for something a bit different, Quebec adds a touch of Europe without the transatlantic plane trip.
Quebec has a multitude of national parks but perhaps the easiest access for a long weekend of leaf peeping is to base yourself in Montreal and from there, explore the Laurentians. The Laurentians are best known for the massive ski resort of Mt Tremblant but outside of ski season, the area is simply beautiful countryside with quaint villages, meandering streams and of course thousands of deciduous trees. The area is about an hour's drive from Montreal. Some of the larger villages have tourist information, although it's best to have a map yourself. Public transport is very limited. Be sure to get out and explore the forests. There are plenty of cross country skiing trails to meander along. Being only an hour from Montreal, it's not going to be a real wilderness experience, there are too many other day trippers, but you won't get lost!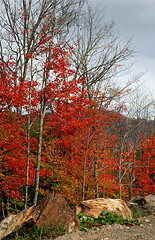 The tourism Quebec website has a fall foliage calendar which is updated regularly during the leaf peeping season. The best time to plan for is late September or the first week in October. Don't forget Canadian Thanksgiving is the second weekend in October, which will make vacation spots such as this busier.
Be sure to allow yourself time to explore Montreal as well. This thriving city prides itself on its art and culture scene. It's a curious combination of Canadian and French tradition as well as welcoming a multitude of immigrants from other cultures. It is very odd going into somewhere as Canadian as Tim Hortons, only to be addressed in French. Quirkiness aside there are probably better places to go, the city has an amazing dining scene too.
Take a stroll in the Parc du Mont Royal, then come down into the alleys of Old Montreal or the hip scene of the Plateau. You'll find murals, buskers and plenty of other action in the streets.